*SHOUTOUT TO THE GFS- HOORAY! The long awaited sale is back!*
Wait a minute…don't close this browser yet! Just to let you know, GSS is suppose to be a great time to stock up and save money! I do make use of annual sale to stock up some of my daily necessities. You must be thinking that I am finding excuses to go on a shopping spree, but hey, if I don't stock up during this sale, isn't it more expensive if I purchase the items I need when there is no sale?
Clothes are part of my necessities too. We do need to refresh our wardrobe once in a while right? I have been wearing the same old set of clothes for so long, I am afraid that the BF might start looking at other girls when we go out to pak tor. Lol.
Who says we need to go shopping malls to shop? There could be better deals online! Here is a list of website which I frequent, some of them are wayyyy cheaper compared to buying from malls.
Did I mention that Zalora has sales ongoing now too? (Click on the image below to go to their site)
I also go to Lazada for miscellaneous shopping. (Click on the image below to go to their site.)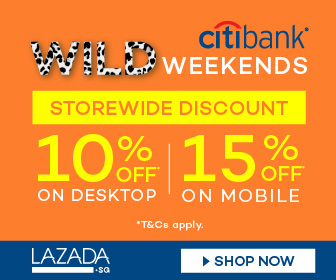 You can even purchase items from overseas, as the comgateway/Vpost is also having GSS promotion. Remember to check out the extra credit card charges each bank charges before you start swiping your credit card!
To add on my lobangs, I always visit Singapore Promotions to get the latest news on promotions around Singapore. If you have any GSS lobang deals, do share in the comment box ok? HAPPY SHOPPING!
The Bf still has to do a write up for 4 more stocks he bought.  Like The Bf Gf Money Blog on Facebook or subscribe by entering your email below to receive updates! 
[wysija_form id="2″]